Asa Gray (November 18, 1810 – January 30, 1888) is considered the most important American botanist of the 19th century. His Darwiniana was considered an important explanation of how religion and science were not necessarily mutually exclusive. Gray was adamant that a genetic connection must exist between all members of a species. He was also strongly opposed to the ideas of hybridization within one generation and special creation in the sense of its not allowing for evolution. He was a strong supporter of Darwin, although Gray's theistic evolution was guided by a Creator.
As a professor of botany at Harvard University for several decades, Gray regularly visited, and corresponded with, many of the leading natural scientists of the era, including Charles Darwin, who held great regard for him. Gray made several trips to Europe to collaborate with leading European scientists of the era, as well as trips to the southern and western United States. He also built an extensive network of specimen collectors.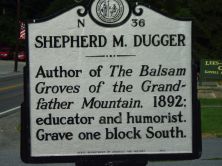 Marker ID: N36
Google Map
Nearest Town: Linville, NC
Date Cast: 1971
N36 – Shepherd M. Dugger
Author of The Balsam Groves of the Grandfather Mountain, 1892; educator and humorist. Grave one block South.
Shepherd Dugger, chronicler of North Carolina mountain life, was born on February 26, 1854, in Johnson County, Tennessee. His parents, George Washington and Elizabeth Caroline McNabb Dugger, moved their large family to the area that is now Banner Elk when Shepherd was an infant. Educated in North Carolina and Tennessee, Dugger left the University of North Carolina in 1881 to become the first superintendent of Watauga County schools. He held the position for one four-year term, leaving that line of work to open a hotel, with partner J. Erwin Callaway, at the base of Grandfather Mountain. Marrying his partner's daughter Margaret in 1887, Dugger and his bride moved to Tennessee where he based a business selling a patented steam cooker. He continued his partnership in the hotel until 1891. Back in North Carolina by 1891, Dugger built a home in Banner Elk, where the family kept boarders.
After his wife's death, Shepherd Dugger raised his two surviving sons and pursued his interests in mining and surveying. He also began to write and publish books and pamphlets related to his beloved mountains. Dugger served as superintendent of roads in Avery County, later calling himself "the Colossus of Roads," and worked as a surveyor and highway engineer for seventeen years, usually traveling the mountain roads by foot, carrying a walking stick. Along the road, he gave lectures, read from his works, and stayed in local people's homes.
Shepherd Dugger's most notable books are The Balsam Groves of the Grandfather Mountain (1892) and The War Trails of the Blue Ridge (1932). Phillips Russell wrote of him, "No man knew the Blue Ridge people, lore, habits, and tastes better than Shepherd Dugger. In his day he was the foremost historian of the region and recorder of its traditions." Dugger died at a cousin's house in Watauga County on September 13, 1938. He is buried in the Banner Elk cemetery.

References:
Leslie Banner Cottingham and Carol Lowe Timblin, The Bard of Ottaray: The Life, Letter and Documents of Shepherd Monroe Dugger (1979)
Phillips Russell, "The Bard of Ottaray," North Carolina Folklore, 17 (May 1969)
William S. Powell, ed., Dictionary of North Carolina Biography, II, p. 115—sketch by Richard Walser
Asheville Citizen-Times, February 24, 1952
Shepherd M. Dugger (coming soon)