Elk Park is a town in Avery County, North Carolina. The town was so named because of the number of elk that lived and were killed there in the past.
In 1882, the East Tennessee and Western North Carolina Railroad (ET&WNC or the "Tweetsie") linked Cranberry, North Carolina, and Johnson City, Tennessee with a stop at Elk Park. Three years later, in 1885, Elk Park was officially incorporated. In 1911, Avery County was established; originally Elk Park was to serve as the county seat, but was changed after North Carolina Lieutenant Governor William C. Newland made a deal that the new county seat would be named after him for his aid in passage of the bill. However, Elk Park served as a temporary county seat while the new incorporated town of Newland was being constructed. In 1950, the East Tennessee and Western North Carolina (ET&WNC) decommissioned the railroad at Elk Park, ending rail service in Avery County, though it has survived as a town, unlike neighboring Cranberry.
Elk Park School was listed on the National Register of Historic Places in 2005.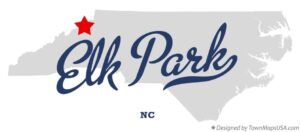 | Column 1 | Column 2 |
| --- | --- |
| Type | Town |
| Incorporated | 1885 |
| Population: | 495 (2020) |
| Elevation | 3,166 |
| Named For | Elk Herd in the Area |
Number of Elk In the Area
The Eastern Elk (Cervus elaphus canadensis) once roamed throughout the eastern United States, including parts of current-day Avery County, North Carolina. After the arrival of European settlers, however, unregulated hunting and loss of habitat led to rapid population declines through the 1700s. By the year 1800, the Eastern Elk was extirpated from North Carolina and by the mid-1800s, Eastern Elk had almost disappeared throughout their range entirely. The last known wild Eastern Elk was killed in Pennsylvania in 1877.
Today, North Carolina's elk are actually the Manitoban subspecies of elk (Cervus elaphus manitobensis). In 2001 and 2002, the National Park Service reintroduced 52 elk into the Cataloochee area of the Great Smoky Mountain National Park as part of an experimental project to determine if elk could survive and reproduce in the area. Some of these elk wandered outside the park's boundaries and established ranges there. During the initial phase of the reintroduction, the National Park Service, via verbal agreement with the North Carolina Wildlife Resources Commission, was responsible for managing elk on and off Park property. Beginning in 2008, when the reintroduction was officially deemed a success, responsibility for elk management outside of park boundaries was transferred to NCWRC.
Currently, the Wildlife Commission estimates there are between 150 – 200 elk residing in North Carolina on public land, private land, and within the Great Smoky Mountain National Park.
Location: 36°9′30″N 81°58′52″W
Area – Land: 0.70 sq miles
Area – Water: 0.00 sq miles
Total Area: 0.70 sq miles
National Register of Historic Places
North Carolina Historical Markers
Marker Text:
Iron ore deposits near here were mined from ca. 1826 until 1930. Supplied iron to the Confederacy.
*Avery County was created February 23, 1911 from Caldwell, Mitchell and Watauga Counties.