Grandfather North Carolina
Grandfather is a village in Avery County, North Carolina. It is the namesake of Grandfather Mountain. The village is a fully gated community within Grandfather Golf and Country Club, located along NC 105. The population was 25 at the 2010 census.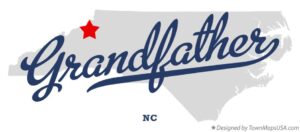 Grandfather, North Carolina
| Column 1 | Column 2 |
| --- | --- |
| Type | Town |
| Population: | 24 (2020) |
| Elevation | 3,914 |
| Named For | Grandfather Mountain |
Grandfather Mountain
Named for the profile of the mountain, which resembles a man's face lying on his side, the mountain is composed of several peaks.
Grandfather Mountain is a mountain, a non-profit attraction, and a North Carolina state park near Linville, North Carolina. At 5,946 feet, it is the highest peak on the eastern escarpment of the Blue Ridge Mountains, one of the major chains of the Appalachian Mountains. The Blue Ridge Parkway passes by the south side of the mountain and also passes over the nearby Grandmother Gap. It is located at the meeting point of Avery, Caldwell (highest point), and Watauga (highest point) counties.
Location: 36°6′2″N 81°51′1″W
Area – Land: 1.55 sq miles
Area – Water: 0.04 sq miles
Total Area: 1.59 sq miles
Grandfather Nearby Cemeteries
*Avery County was created February 23, 1911 from Caldwell, Mitchell and Watauga Counties.