Linville Falls North Carolina
Linville Falls is an unincorporated community at the junction of Avery, Burke, and McDowell counties in Avery County, North Carolina. The community is named after Linville Falls, a nearby waterfall in the Linville Gorge Wilderness.
The Linville Falls Tavern was listed on the National Register of Historic Places in 2000.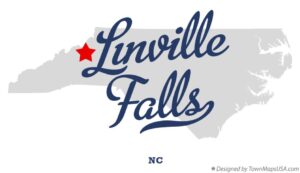 Linville Falls, North Carolina
| Column 1 | Column 2 |
| --- | --- |
| Type | Unincorporated |
| Founded | |
| Population: | |
| Elevation | 3,268 |
| Named For | Linville Falls |
William and John Linville
There are many places in Avery County that bear the name "Linville." As the traditional story goes, William Linville and his son left the Yadkin River late in the summer of 1766 and traveled west to hunt, taking John Williams with them. While in the area, the group was surprised by a party of Indians, possibly Shawnee, and the two Linvilles were killed.
National Register of Historic Places
Linville Nearby Cemeteries
*Avery County was created February 23, 1911 from Caldwell, Mitchell and Watauga Counties.
Linville Falls, NC Gallery