Linville is an unincorporated community and census-designated place (CDP) in Avery County, North Carolina. It was first listed as a CDP in the 2020 census with a population of 283. Centered just south of US 221 and NC 105, the community is known as a summer mountain resort and host of the Grandfather Mountain Highland Games, the largest modern Highland games in North Carolina.
Linville, at times known as Clay or Porcelain, was founded in 1883 and designed by Samuel T. Kelsey of Kansas, and was named for William and John Linville, who were killed by Cherokees in 1766. The East Tennessee and Western North Carolina Railroad (ET&WNC or "Tweetsie") passed through the community from 1916 until 1940, when a major flood washed away the tracks. The old rail route later became NC 105 in 1956.
Linville has four country clubs in the area: Grandfather Golf and Country Club, Linville Land Harbor Golf Club, Linville Golf Course, and Linville Ridge. Adjacent to Linville is Grandfather Mountain, best known for its mile-high swinging bridge, and the Blue Ridge Parkway. The Linville Historic District, located between Hickory Lane and Mitchell Avenue, features various buildings built between 1892 and 1940.
Linville has one hospital, Charles A. Cannon, Jr. Memorial Hospital, that serves all of Avery County.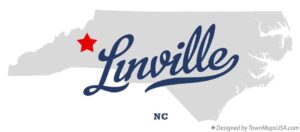 | Column 1 | Column 2 |
| --- | --- |
| Type | Unincorporated |
| Founded | 1883 |
| Population: | 283 (2020) |
| Elevation | 3,665 |
| Named For | William and John Linville |
William and John Linville
The traditional story goes like this: In 1766, William Linville and his son, John Linville, along with another young man, decided to go hunting for pelts. During the night, while camping near present-day Linville Falls, William Linville had a dream about the group being attacked. He awoke early the next morning and tried to warn the others, but the Cherokee Indians were already in position. The two Linvilles were killed.
Location: 36°12′23″N 81°52′59″W
Area – Land: 6.48 sq miles
Area – Water: 0.01 sq miles
Total Area: 6.49 sq miles
Linville Nearby Cemeteries
*Avery County was created February 23, 1911 from Caldwell, Mitchell and Watauga Counties.