Avery County Heritage Festival
Avery County Heritage Festival
Avery County, North Carolina has a rich genealogical history that can be traced back to the early 1700s when the area was inhabited by the Cherokee Nation. In the late 1700s, European settlers began to move into the area, including the Avery family who established a plantation near present-day Elk Park. The county was officially established in 1911 and was named after Waightstill Avery, a prominent lawyer and politician from the area. Over the years, Avery County has been home to many families, including the Banner, Braswell, Greene, Hughes, and Wiseman families, among others, who have left their mark on the county's history and culture. Today, Avery County remains a vibrant and thriving community with a strong sense of tradition and heritage.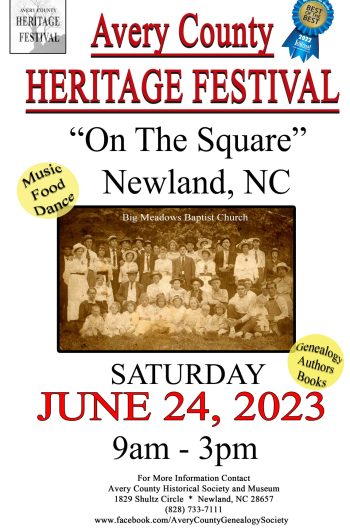 2022 Heritage Festival Photos
Share your photos/videos at: photos@averycountymuseum.org
What to Do
Avery County, North Carolina, has a wealth of attractions for everyone to explore. Some of the top must-see landmarks are:
Banner Elk Winery & Villa: Enjoy a wine tasting, tour the vineyards, and stay overnight in a Tuscan-inspired villa at this popular winery in Banner Elk.
Blue Ridge Parkway: This scenic drive passes through Avery County and offers stunning views of the Appalachian Mountains, including the famous Linn Cove Viaduct.
Elk River Falls: Located in Elk Park, this picturesque waterfall is a popular spot for swimming, picnicking, and hiking. It is easily accessible and offers stunning views of the surrounding mountains.
Grandfather Mountain: This iconic landmark and nature preserve in Linville is a must-see for any visitor to Avery County. It offers breathtaking views, hiking trails, a mile-high swinging bridge, and wildlife habitats.
Linville Caverns: Located in Marion, just south of Avery County, Linville Caverns is a unique underground experience that allows visitors to explore natural limestone caverns, formations, and underground streams.
Linville Falls Winery: A family-owned and operated winery situated in the Blue Ridge Mountains, close to Linville Falls, NC. It can be found at mile marker #317 on the Blue Ridge Parkway.
Where to Stay
| Name | Distance to Museum | Location |
| --- | --- | --- |
| The Inn at Shady Lawn | 0.3 | Newland, NC |
| Pixie Inn | 4.2 | Linville, NC |
| Best Western Mountain Lodge | 11.2 | Banner Elk, NC |
| Ridgeway Inn | 20.5 | Blowing Rock, NC |
| The Village Inn | 21.1 | Blowing Rock, NC |
| Hemlock Inn | 20.8 | Blowing Rock, NC |
| Meadowbrook Inn | 20.8 | Blowing Rock, NC |
| Holiday Inn Express | 21.6 | Blowing Rock, NC |
| Hillwinds Inn | 21.0 | Blowing Rock, NC |
Where to Eat
| Name | Type | Website |
| --- | --- | --- |
| Bojangles | Southern | View |
| Carolina BBQ | BBQ | View |
| Christa's Country Corner | American | View |
| Elk River Depot Family Restaurant | American | View |
| Italian Pizza & Pasta Restaurant | Italian | View |
| Los Arcoirsis | Mexican | View |
| Louise's Rock House Restaurant | American | |
| Kaye's Kitchen | American | View |
| Puerto Nuevo | Mexican | |
| San Dee's Cafe | American | |
| Starving Squirrel | American | View |
| Tartan Restaurant | American | |