Roaring Creek North Carolina
Roaring Creek is an unincorporated community in Avery County, North Carolina. The community was named after Roaring Creek, which flows in the area. The community is located along US 19-E, between the communities of Frank and Plumtree.
On September 27, 1780, the Overmountain Men, led by William Campbell, camped at Roaring Creek, after passing Yellow Mountain Gap. On October 7, 1780, they would arrive at Kings Mountain for the Battle of Kings Mountain against the British.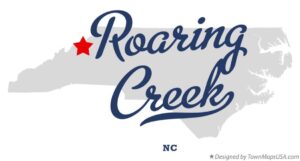 Roaring Creek, North Carolina
| Column 1 | Column 2 |
| --- | --- |
| Type | Unincorporated |
| Population: | 438 (2020) |
| Elevation | 2,982 |
| Named For | Roaring Creek |
Roaring Creek
With headwaters between Yellow Mountain and Rye Ridge, the creek flows into the North Toe River in the Valley community. Originally it was called Roan Creek, after Roan Mountain, but it was renamed due to the roar produced by the numerous rocks and boulders in the creek.
Plumtree Nearby Cemeteries
*Avery County was created February 23, 1911 from Caldwell, Mitchell and Watauga Counties.
Roaring Creek, NC Gallery